High Quality Dental Implants Brookline, MA
The dental implant process usually requires several visits with multiple dental specialists—but at Coolidge Corner Dental, we can perform all aspects of your dental implant treatment in-house. From initial surgical placement to fitting your custom crown, we can provide single tooth implants, implant bridges, and even full mouth implants at our Brookline, MA location.
Do You Hide Your Smile Because of Missing Teeth?
Many people who have chipped, broken, or extracted teeth suffer from anxiety and lack of confidence in their smile. Dental implants can improve your appearance and give you the confidence to laugh, smile, eat and speak again.

At Coolidge Corner Dental, we offer state-of-the-art dental implants, the gold standard for tooth replacement. Dental implants are a permanent solution that will restore your oral health and your ability to smile with confidence.
Dental implants may seem like a recent innovation, but they have actually been in use for decades. As a graduate of Implant Pathway's, Dr. Sam brings his own expertise, having received specialized training in implant treatment.
A dental implant is a standalone tooth replacement that mimics the natural structure of a tooth. Dental implants are secured in the jawbone with a surgically implanted titanium "root," then capped with a natural-looking dental restoration, the part of the tooth that is visible when you smile. They fuse with surrounding bone and tissue and become an anchor that mimics a natural root. This process prevents any deterioration of bone that occurs when a tooth is lost.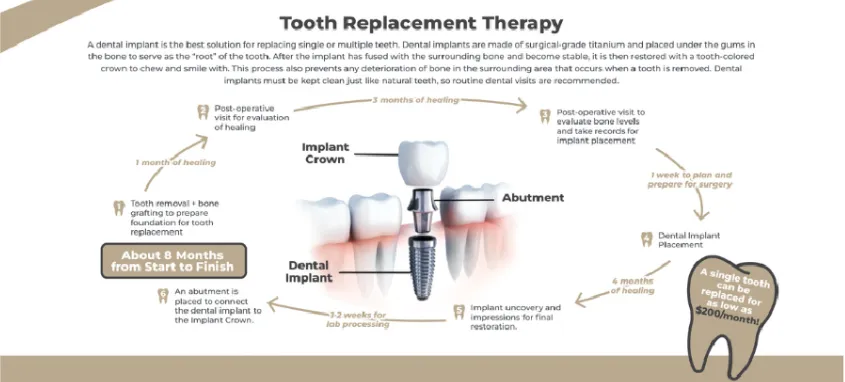 How Can a Dental Implant Change My Life?
Dental implants are a foundation for replacement teeth that function and feel like your natural teeth. You won't need to worry about cutting out hard or crunchy foods or having your denture slip or shift. You can eat whatever you like and smile confidently. Dental implants will not only give you back the ability to enjoy your life, but they also retain the structure of your face and preserve your youthful appearance.
How We Use Dental Implants in Brookline, MA
Getting dental implants isn't the same for everyone. Dental implants can be used to:
Replace a single tooth
Replace multiple individual teeth
Anchor a fixed dental bridge
Stabilize a full set of dentures
Since implants are secured in the jaw with titanium roots, they don't require the support of adjacent teeth to stay in place. You will be amazed at how natural dental implants look and feel once they are placed. Dental implants also prevent jawbone deterioration, look and act like natural teeth, are easy to care for and last for years.
Normally, placing a dental implant is a lengthy process. First, the implant must be placed and allowed to heal for several months. Only after this healing period can the dentist cap the implant root with an attractive restoration that will look and function just like your real teeth.
No More Ill-Fitting Dentures
If you are in the Brookline area and you're tired of dentures that slip or fall, we offer two solutions to give our patients more confidence and make it possible to eat more of their favorite foods.
Implant-retained dentures and All-on-4® dental implants secure dentures and bridges in place. Because dental implants fuse with your natural bone, teeth stay put, and you can avoid embarrassing dental mishaps. Plus, eating is one of the great joys in life and something you share with friends and family. Dental implants can make it more comfortable to go out and enjoy the diverse cuisine that Brookline offers.
Dentures vs. Dental Implants in Brookline, MA
Over time, bone loss can mean that your dentures no longer fit properly. When they shift or fall, dentures can trap food between the plate and palate, making eating out and enjoying social situations difficult.
For our Brookline patients who want an alternative to complete dentures, we offer implant-retained dentures. We use 4-6 dental implants to act as a locking mechanism that holds dentures in place. We can sometimes retrofit your existing dentures.

Are Dental Implants Painful?
Many patients at our Brookline dental office location who have gotten dental implants are surprised at how little pain and discomfort they experience. Our dentists use local anesthesia to ensure the entire area is numb so you won't feel any pain.
Once the procedure is done, and the anesthesia wears off, patients use over-the-counter pain relievers like ibuprofen to treat any soreness.
How Long Will My Implants Last?
Just like your natural teeth, dental implants can last a lifetime when cared for properly. With proper care and maintenance, such as brushing and flossing and preventive exams and dental cleanings, you can enjoy the benefits of your dental implants for years to come.
Find out More About Dental Implants in Brookline, MA
Coolidge Corner Dental offers a variety of implant solutions to replace missing teeth. Schedule a consultation with Dr. Samuel Ustayev DMD to find out the best option for you. Call our Brookline, MA dental office today at (617) 277-1112 to book an appointment!