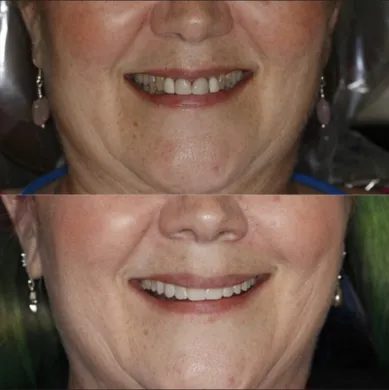 What are porcelain veneers and are they right for me?
Veneers are an excellent way to redesign and reshape your entire smile. Veneers are a very thin ceramic shell that covers your existing tooth structure. In placing these new veneers on your teeth, you are able to fix the look of issues such as:
- staining
- cracked teeth
- spaces
- misaligned teeth
- chipped teeth
- broken or previously bonded teeth
Porcelain veneers are permanently bonded to your natural teeth and with proper maintenance can last anywhere from 15-20 years.
What is the process of getting porcelain veneers from Coolidge Corner Dental in Brookline, MA?
First visit: We will discuss the new shape and look of what we are going to accomplish by placing the veneers. We will take impressions of your teeth in order to create a customized wax-up of your ideal smile.
Second visit: Using the custom made wax-up, Dr. Sam designs a temporary new smile. Favoring a conservative approach, he minimally shapes and fits the patient's teeth for temporary veneers that will be worn for approximately two weeks. This unique step allows patients to test drive their new, improved smile.
Third visit: After test driving the temporaries for two weeks, you will discuss any changes you would like to make to the temporaries veneers. Details made in the temporary veneers are communicated to the dental lab in order to create beautiful final veneers. The temporary veneers are removed and a final impression of the underlying teeth is taken. A brand new set of temporaries is made with the changes/ adjustments in place. The impression will be sent to our local dental laboratory for the custom porcelain veneers to be made. We only utilize the highest standard laboratory for fabrication of all of our work. By using a local Boston dental lab, we have ultimate control in size, shape and color of the final veneers. This process at the laboratory takes between 10-14 days.

Fourth visit: Dr. Sam will remove the temporary veneers and try-in your permanent veneers. You will get to see the final veneers before they are bonded on to your teeth. Dr. Sam will then permanently bond the porcelain veneers so you can enjoy your new and improved smile.
Fifth visit: At this visit Dr. Sam will evaluate how you have adjusted to the veneers, make any adjustments that are needed and get you fitted for a night guard.

You will maintain your regular hygiene schedule, coming in every 4-6 months for cleanings. At this time, Dr. Sam will continue to monitor your oral health, the health of the veneers, and oral cavity.


If you have any questions, please feel free to call our office in Brookline, MA at (617) 277-1112. Dr. Sam also provides consultations which you can schedule by following the link below.